What we use: UiPath Automation Hub
While setting up your Digital Workforce journey for your company, you may come to a point where you ask yourself the question, "How do I scale RPA within my organization?" To find an answer to this question, it is recommended to take a closer look at the automation potential within the individual phases of the UiPath RPA Automation Journey. Here we see that the first step into the automation landscape is the Discover phase.

Within the Discover phase, potential processes suitable for automation through RPA are collected and then subjected to an initial feasibility analysis. Here, automation ideas are evaluated and prioritized according to their benefits and the complexity of their implementation.
For initial process identification, top-down initiatives are often introduced to take a closer look at individual business units and their processes. Often, these initiatives elicit large, complex processes with extensive RPA potential. These processes commonly have long design and development times, and the automation hereof achieves high savings and increased productivity.
When organizations only apply the top-down approach, smaller automation potentials are overlooked. Small processes and individual activities at each workstation can be automated quickly and represent the great mass of automation potential within your company. Accordingly, the implementation of small RPA projects costs little but can generate significant benefits, especially in terms of quality control, employee satisfaction and general acceptance towards RPA initiatives. Every employee is aware of the activities that holds them back, and these can be automated quickly and effectively.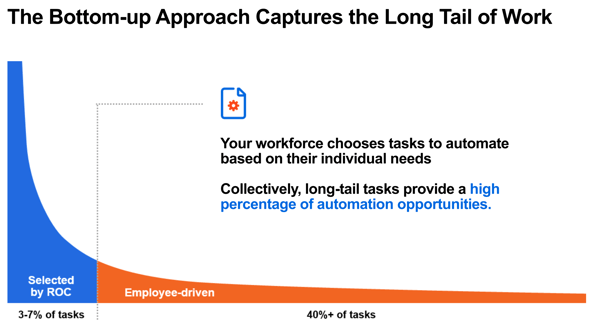 To combine these two approaches for RPA Discovery, and enable the efficient organization and planning of automation projects, UiPath has provided a platform: the UiPath Automation Hub.
Automation Hub offers a centralized platform on which the entire organization is connected to stimulate RPA. It is a tool for collaborative process identification, pipeline management automation, and a central process repository. You can discover, prioritize and track automation ideas in a centralized manner. Furthermore, it gives every employee the opportunity to submit automation ideas and be a part of the automation journey. All this is linked to a gamification approach to encourage the participation of as many employees as possible. With UiPath Automation hub you will continue to take the robot out of your employees!